It's here. The much anticipated iPad Pro. In short supply and high on hype, one question is on everyone's minds. Does the newest addition to the Apple family live up to its promises? We took it for a test drive, with the intent of seeing just how functional, fast, and capable the iPad Pro is.
BEAUTY
At 12.9", the display on the iPad Pro is larger than the 12" Macbook and the Surface Pro 4. In short, this thing is massive. Ginormous. And it isn't just more real estate, Apple packs every pixel they can into that space with a resolution of 2732 x 2048. That's 264 pixels per inch, making it the highest resolution display of any iOS device. It's beautiful. Describing it doesn't do it justice. The photos below don't do it justice. It truly is stunning. In comparison to my Galaxy Tab S, it was difficult to see a difference in the pixel density. While the Galaxy Tab S has a resolution of 2560 x 1600, giving it a higher pixel density of 288ppi, the smaller display means they both look identical up close. But the sheer grandeur of the iPad Pro display at 12.9" makes more of an impact. Pictures, 3D images, videos, and 4K content all look amazing on the Pro. If you must find a downside here, it's that the display is SO CRISP, that lower resolution images look terrible, with jagged edges all around.
The iPad Pro isn't simply a beautiful tablet, it's an incredibly powerful one. Apple claims the A9X processor in the iPad Pro has twice the CPU and twice the graphics performance of the previous processor, saying that it "rivals most portable PC's". So we set out to test that statement. We found that the A9X is an insanely powerful chip, handling almost any task thrown at it with the greatest of ease. The 3D rendering capabilities of the iPad Pro are also astonishing. Apps like UMake are perfectly suited to the iPad Pro and its powerful processor and amazing graphics performance. In our testing, we were able to manipulate 3D models without a hitch. Pinching, zooming, and rotating complex models with no issues or stutter. Putting the iPad Pro through 3D Mark revealed that the Pro is far more powerful and capable, graphically, than any tablet around; however it still falls short in of current gen laptops and even the Surface Pro 3 in 3D graphics rendering.
SOUND
Wow. Wow. Again, a third time, WOW. Absolutely the most impressive feature of the iPad Pro are the speakers and their sound. The Pro is equipped with 4 speakers, or what may be best described as a 4 speaker sound system. Speakers are arranged with one near each corner to create an immersive "soundstage" experience. These speakers are programmed to change the location of the lows and midranges, whether you are holding the iPad Pro vertically or horizontally. And a new casing design gives the Pro speakers 61 percent more back volume, a wider frequency range and up to 3x more acoustic output than previous iPads. I seriously could go on for hours about the sound. It is stellar. I have never heard such immersive and rich sound from such a small, thin device. The software Apple uses behind the scenes to move the sound around is just short of magic. I spent just shy of 3 hours watching surround sound videos and 4K content on YouTube, testing the sound and richness of the display. The way sound moves and shifts as you spin the tablet is mind bending. Deep, rich, full sound from a device 6.99mm thick.
IF YOU BUILD IT, THEY WILL COME
We played with many apps on the Pro, and we are impressed with the possibilities of what the iPad Pro could become someday. It's super powerful, with an amazingly rich, high resolution and color accurate screen. Apple obviously wants to hit a soft spot with design professionals, as the most powerful, useful and feature rich apps were the Adobe apps written for Apple's new baby. Adobe Comp is by far the most impressive, allowing us to throw together advertisements, newsletters and brochure layouts of surprising levels of completeness before sending them off for finishing in the full suites on the PC. And that is our first and primary problem. The Pro just isn't a complete productivity tool. It is amazingly good at certain tasks, making some a breeze. The problem is that it lacks the power and the feature set, to allow for beginning to end completion of those tasks. I can start using the Pro for drawing, and layout drafts, then send them to the real computer for completion. This defeats the purpose. The Pro is more of an accessory device, one that is far better at certain tasks than smaller tablets or other external devices like a Wacom tablet. And I wager that some purists in the design community won't even be willing to give up their Wacom tablets until we see more and better software and apps for the Pro. And that is Apple's play here. Apple built the iPad Pro, with the hopes that developers will build an economy around this amazing hardware to make it better, faster, more functional. If you build it, they will come.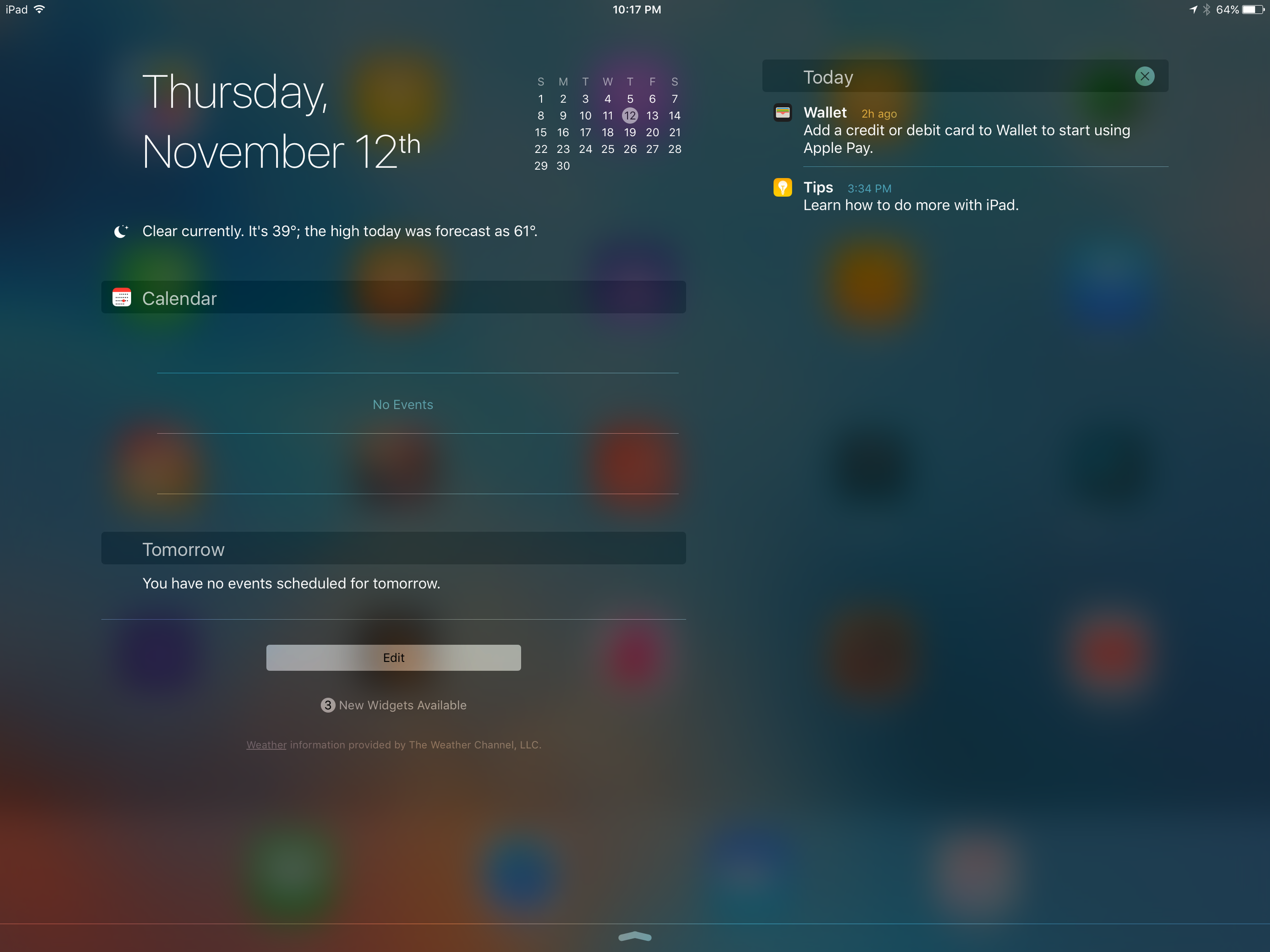 Our second issue is price. This is an EXPENSIVE tablet. REALLY expensive. Mainly, because you can't just buy the iPad Pro. In order to use it effectively, you need the Smart Keyboard and Apple Pencil. I tried using the Wacom stylus and 2 generic styluses in Adobe Draw, Comp and other apps, and no dice. Also, Apple was careful to position the Pro as a tablet first, with it's own accessories. Apple's Mac Bluetooth keyboard and Magic Mouse will not work with it. Interestingly enough, in about 10 seconds, I was able to pair my Samsung Bluetooth Keyboard from my Galaxy Tab Pro, and it worked like a charm. In other words, Apple REALLY wants you to buy the Smart Keyboard and Pencil. That adds another $260 before tax to the price tag. Otherwise, it's just a really big, beautiful and extremely expensive iPad, which is to say the most expensive way ever to watch YouTube and check Facebook. The iPad Pro comes in 3 flavors, ranging from $799 to $1062. Throw in the mandatory Smart Keyboard and Pencil, and altogether, that brings a fully functional iPad Pro to a whopping $1156 - $1459 after taxes. I know what you are thinking because we thought it too. "For that much money..." Yeah. So we did a quick Google search and found many laptops with Core i7 Quad Core Processors, 512GB SSDs and 2GB or more video cards. In other words, FAR more powerful laptops for the money an iPad Pro will run you.
In short, the iPad Pro is without question the absolute most powerful, most beautiful tablet we have ever seen. It would still be the best tablet we have ever touched, even if it was 7", 9" or 15". Breathtaking screen, solid design, and the beginnings of an amazing App economy. In 2 years, this may be the ultimate shortcut to completing many tasks. Right now, it's just a really expensive way to start work you will need a real computer to complete.