Amazon held their much anticipated press conference today, and as was expected, they unveiled a Smartphone. Keeping with the "Fire" nomenclature, the phone is named the Amazon Fire Phone. Obviously not intended to be left behind in a market they are late to, Amazon went big in the specs department, stepping toe to toe with the big players in the space like the Galaxy S5 and the iPhone 5s. Packing a "13MP camera with optical image stabilization for stunning photos and 1080p HD video, a 2.2 GHz quad-core processor and 2GB of RAM for fast, fluid performance, a beautiful 4.7" HD display, dual stereo speakers, and Dolby Digital audio", Amazon obviously wanted to make sure potential users didn't feel they had to make sacrifices in power and performance if they opted to make the switch. Here is how the Fire Phone stacks up:
It's obvious that the Fire Phone isn't a top tier phone from these specs, with the bewildering choice of Bluetooth 3.0 instead of 4.0, and the last generation Snapdragon 800 processor. But the phone is certainly no slouch in the specs department. It is obvious Amazon came to play.
But as always with Amazon, the true point to this device is the experience, and Amazon aims to make it like no other.
Fire Phone will work with the Amazon Appstore, but will not use any Google Apps. Running on the FireOS fork of Android that Amazon built for the Kindle, expect a similar experience here. While it does not have access to Google Apps (NATIVELY, we installed Google Apps to our Kindle FIRE HDX the day we got it through sideloading), don't expect that to hold the experience back TOO much. Navigation in FireOS is a smooth, fluid experience. Game changing features like Firefly: a tool that lets you identify songs, shows or movies via the microphone, then queues up the content or product on Amazon's site to buy it, are certainly going to wow consumers. It's like the Google Goggles app on Android, times 100. It will even recognize phone numbers in text to let you dial or store in your contacts. In addition, Amazon brought the much beloved Mayday feature from the Kindle Fire HDX. Hitting the Mayday button summons a personal tech support concierge that connects within 15 seconds to your device, who can remotely guide you through any feature, even drawing on your screen to highlight the way. Having used this feature extensively with our HDX, we can attest to just how helpful and cool this feature is. The multiple cameras on board aid in creating an experience Amazon calls "dynamic perspective", a sort of parallax effect where images on the screen move and shift in a 3-Dimensional space in relation to where the user is looking. It is a striking effect that has to be seen to be believed. Whether this is merely a gimmicky feature of the lock screen only, or if it makes it's way into other features of the phone (aside from maps) remains to be seen. Either way, it's cool.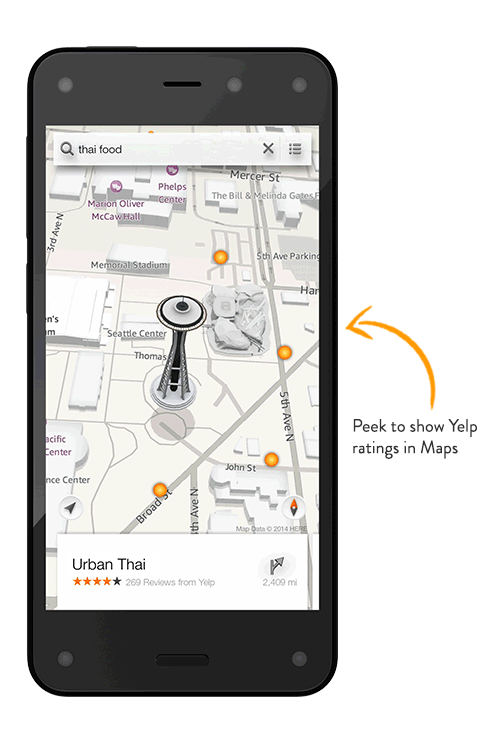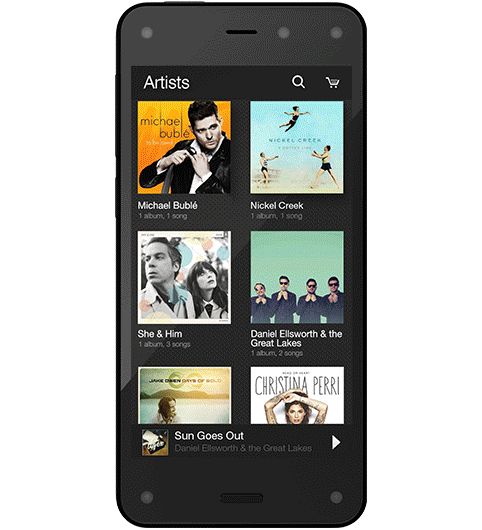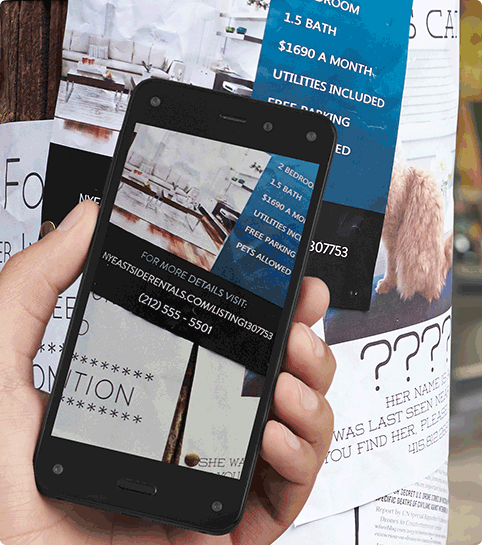 Knowing that in order to compete in a space completely dominated by Apple and Google, Amazon knew they had to be prepared. Completely disassociating themselves from Google apps was a risky move. Android is well renowned for it's Google Apps, with the industry recognized best Maps and Email apps, among others. Jumping into this space without a quality replacement would be suicide in the smartphone arena. If initial impressions are to be believed, the Amazon Maps app with incorporated 3D visuals is a winner, with a competitive Email app as well. Packing in all the expected Kindle related features including X-Ray, and adding accelerometer powered scrolling and navigation, this looks to be one of Amazon's most ambitious and promising products ever.
With 32 and 64GB models selling at $199 and $299 respectively, and an off-contract purchase price of $649 for 32GB and $749 for 64GB, the Fire Phone aims to remain competitive in pricing as well, given that is double the storage most phone offer at their respective price points. Currently Fire Phone is available on AT&T only and comes with a free year of Amazon Prime.
Can Amazon take on the mobile market and revolutionize it? That remains to be seen. But it is definitely clear with their aggressive entries into multiple product categories with the Kindle e-Readers, FireTV and now a smartphone, Amazon is certainly on "Fire".